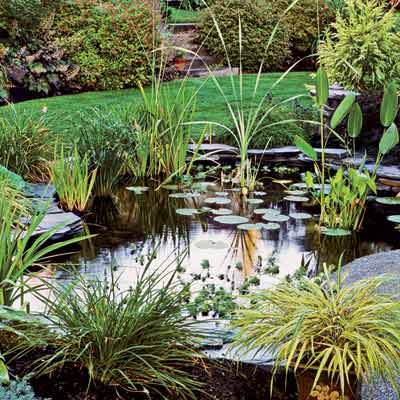 »
All About Ponds
There's something about water in motion that soothes the soul. Watching light play off the ripples or listening to the splash of a fountain—these are universally calming pastimes. It's no surprise, then, that one of the most popular landscaping projects for This Old House readers is installing a pond.

Happily, you don't need deep pockets or lots of land to enjoy your own water feature. You can install a fully equipped, landscaped, fish-filled pond for around $500, provided that you do your own digging. Creating a lush habitat like the one at right requires rubbery liners, powerful pumps, effective filters, and, without question, a commitment to care for them. But when you're finished, whether it's tucked into a corner of the yard or next to a deck or patio, your pond will provide an endless source of fascination for family and visitors alike.

Pictured: Built close to the house, this pond creates a refreshing, relaxing backdrop just out the back door. The rock waterfall makes a pleasing sound as it oxygenates the water. Plants soften the stone edges and provide cover for fish.

Contribute to This Story Below