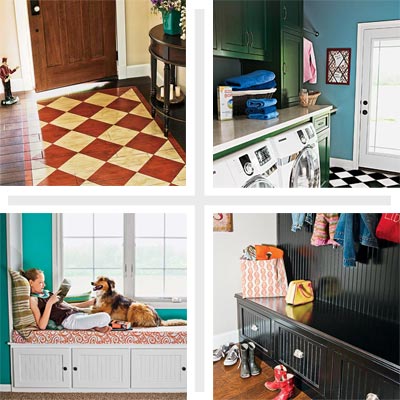 »
She Let TOH Magazine Be Her Guide
Ever since she was a little girl, living in a bungalow with a claw-foot tub, glass doorknobs, and handsome woodwork, Lynn Schmitz of Jefferson City, Missouri, has had a soft spot for period homes. She and her husband, Dan, dreamed of buying a turn-of-the-century farmhouse, yet after looking at several, they couldn't find one with the right features, in the right neighborhood, at the right price.

"We decided to build from scratch, but the last thing I wanted was a generic-looking house without any character," she says. So as plans got underway, the builder's staff interior designer, Angie Zimmermann, showed Lynn some copies of This Old House. It was, as they say, the beginning of a beautiful friendship.

Together, Lynn and Angie tore out pictures, drafted designs, and with the help of a talented carpenter and a cabinetmaker, brought the ideas Lynn loved in our pages to life. Here, how they tailored each published project to give Lynn's new home the vintage appeal she'd always wanted.

Contribute to This Story Below