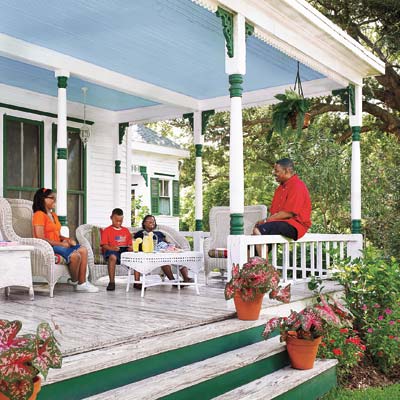 »
Welcome One and All
Who> Doris and Samuel Collins
Where> Hitchcock, Tex.
What> Host an annual celebration at a historic property they're fixing up.

The first thing my wife, Doris, said when she saw the house was, "Are you serious?" We were living with our kids in a Texas town near Galveston and looking to upsize. A crumbling farmhouse wasn't what she had in mind. Nobody had lived there for a while, and the driveway was so dense with brush that you couldn't see the place from the road—it was a jungle. The porch was falling down. There were holes in the roof and, as a result, water damage inside. But I could see potential.

Shown: The restored porch of the 1883 farmhouse is a favorite hangout for (from left) Torin, Joseph, Dallas, and their father, Samuel Collins III.

Contribute to This Story Below