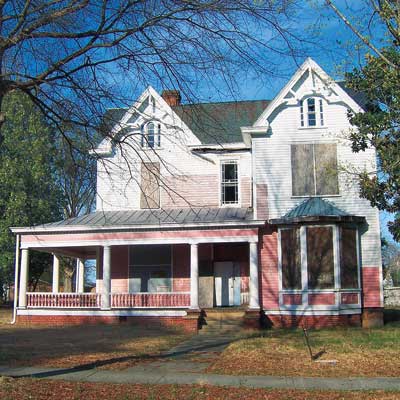 »
Forgotten Queen Anne Home
Published June 2011
Price: $45,000
Location: Wilson, N.C.
Contact: Kathryn Ferrari Bethune: 252-234-7694
Now empty and boarded up, this forgotten Queen Anne once played a pivotal role in the religious, commercial, and journalistic history of Wilson, North Carolina. It was built in the mid-1880s by Pleasant Daniel Gold, a prominent minister. Along with his son John (one of 11 Gold children raised here), he started what later became the Wilson Daily Times, still this city's go-to news source. In 1922, the house was purchased by Ephrain J. Harrell, a cofounder of the Acme Candy Company, which became one of the largest candy manufacturers in the state.
Shown: The two-story, four-bedroom Queen Anne has decorative arched braces in the front gables. A wraparound porch with round columns was added in the 1920s.

Contribute to This Story Below