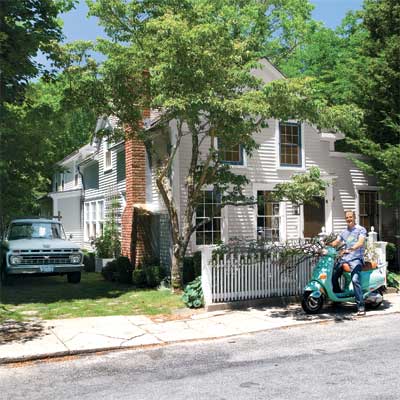 »
All In the Details
For a real thrill, try stripping an antique cottage down to its bones. "The most exciting thing was, it had bowed like a wooden ship's hull, and the walls were out of plumb maybe six inches on one side," says general contractor Eric Thompson, recalling his amazement at seeing what years of patching and praying had kept hidden. "That's an insane amount."
Local historians weren't sure when the one-and-a-half-story cottage had been built but put their best guess at between 1830 and 1850, when the village of Sag Harbor, a port at Long Island's east end, was flooded with whale money. Now here it was, wind whistling through and a little the worse for wear, as if it had taken the town's name a little too literally.
It was also under the care of a new owner, Paul Rogers, who had summered in the town as a child and returned to buy his "dream" house in a restless burst of nostalgia. He was acutely aware of the precious nature of his find, which sits in a district on the National Register of Historic Places. But he also realized that to save it he'd have to do more than just paint.
Shown:
To enhance his circa 1840s home, owner Paul Rogers (on wheels), focused on architectural details, from the fit of the clapboards to the addition's 19th-century gable and six-over-six windows. Vintage window panes:
Fairview Glass

Contribute to This Story Below