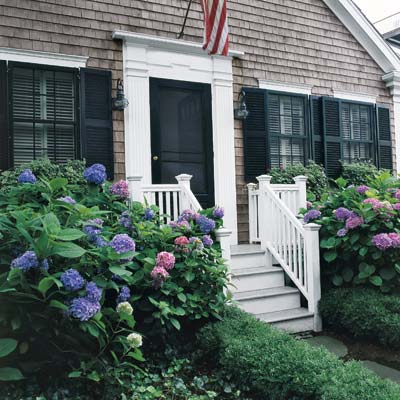 »
Help With Hydrangeas
They're a summertime staple in yards across the country: big orbs of blue on the outstretched arms of leafy shrubs. These so-called mopheads (a type of H. macrophylla) were imported from Japan, China, and Europe in the 19th century. But there are also delicate lacecaps that have flat heads dotted with color and ringed with four-petaled florets, and panicle hydrangeas with white cone-shaped flowers. There are also easy-care species native to the U.S., such as the shade-tolerant oakleaf hydrangea and cold-hardy smooth hydrangea.

Need a little help coaxing your own hydrangeas to perform better? We've got answers to the most common queries about growing these garden favorites.

Shown: 
Many H. macrophylla varieties can produce pink to deep blue blooms (even on the same plant), depending on the soil's pH.

Contribute to This Story Below