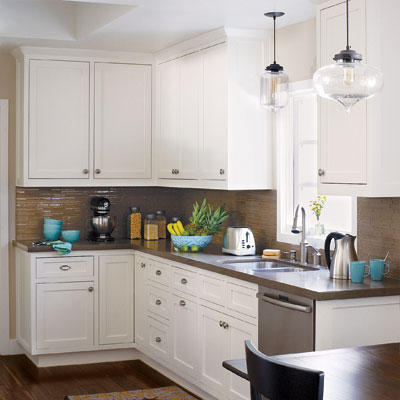 »
Same Size, Sunnier Spirit
It can pay to take your time. Ten long years passed before Kristin Sharpe and her husband, Mike, finally did something about their kitchen's bumpy tile countertops, crammed cabinets, and lack of gathering space. But as they pondered every possibility, from demolishing a wall in their Southern California ranch house to building an addition, they also refined their vision. The result: a same-footprint redo, put in place by general contractor Michael Dubin. "We did a lot of research and testing," says Kristin. To create a more spacious feel, they enlarged a pass-through to the family room, where their twins, now 9, hang out; added a skylight; and restricted the palette to vanilla and chocolate—right down to the walnut floor. Light-reflecting glass tile and pendants as delicate as soap bubbles brighten the space. "With the bigger pass-through, I can watch the kids while cooking," says Kristin, "and finally we can all gather in the kitchen for dinner." The wait, in other words, was worth it.

Cocoa-colored glass tiles melt into the quartz countertops for a seamless look.

Kitchen After: Opened up with a skylight and an enlarged pass-through, the same-size kitchen packs in style, storage, and dining space.

Contribute to This Story Below