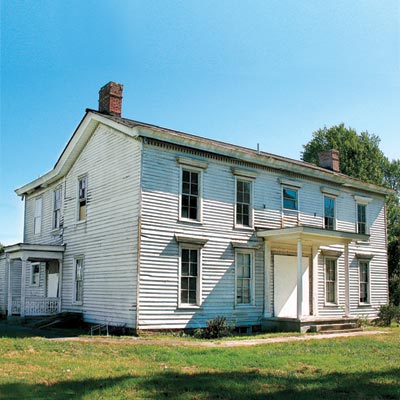 »
Georgian Revival Farmhouse
Published April 2011
Price: $1 (must be moved)
Location: Jeffersonville, Ind.
Contact: Greg Sekula, 812-284-4534

The Civil War was still raging in 1864 when farmer Thomas Benton Jacobs built this rather formal-looking Georgian Revival–style farmhouse on the outskirts of Jeffersonville, Indiana. Just across the Ohio River from Louisville, Kentucky, the town was used as a principal gateway to the South for the Union Army, so we're guessing many a Yankee soldier passed by the place on his way to war. After Jacobs died, in 1919, the house became the headquarters of a prison work farm. In 1923, it was sold back into private ownership. Keep reading to learn why it's worth saving, and what work it needs.

Shown: With its dentil molding cornice and side entry porch, the Jacobs residence is downright elegant for a farmhouse. It's big, too, with a total of nine rooms, including two bathrooms.

Contribute to This Story Below