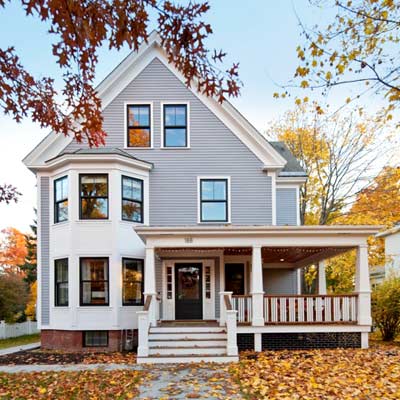 «
»
Deering Center, Portland, Maine
Deering Center's claim to fame: It's said to be the one place in the U.S. where a child can go to kindergarten on up through college all on the same street. Along with Longfellow Elementary School and Deering High School, the neighborhood's Stevens Avenue is also home to the University of New England. An early trolley-car suburb, Deering Center was annexed by Portland in 1899. It was ideal for child-rearing, with set-back houses, sidewalks, and an enormous wooded park with hiking trails as a haven from the city. For some years, residents have been fixing up homes by famed Portland architect John Calvin Stevens and peeling mid-century siding from the facades of their historic houses. "We have it all," says Naomi Mermin, president of the Deering Center Neighborhood Association, citing a diverse population of several thousand, an old-fashioned butcher, and cross-country ski trails at the park as proof.
The Houses
The streets here display a "higglety-pigglety mix" of home styles, according to Merman, including Italianates, Queen Annes, Colonial Revivals, Foursquares, Craftsman bungalows, Sears kit houses, and a farmhouse-influenced style that locals refer to as the "New Englander," the majority built in the 20th century's first half. Prices start in the mid-$200,000s and top out at $500,000.
Why Buy Here?
Want a nearly turnkey nest, rather than a roll-up-your-sleeves project? "This is not a neighborhood where you'll find houses in bad shape," Merman says. "Houses in fairly original condition, needing updates but otherwise in good shape, are easy to find." And many older homes here are multifamily dwellings including rental units; these large houses not only offer income potential, but prove remarkably energy-efficient during Maine's long, cold winters.
Among the best for:
The Northeast
,
Family Friendly
,
Cottages & Bungalows
,
City Living
,
First-Time Buyers
,
Easy Commute
,
Walkability

Contribute to This Story Below