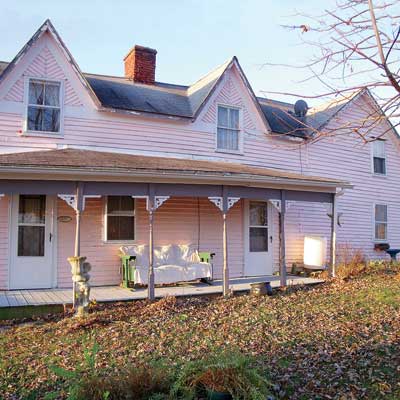 »
Save This Old House
Published March 2011
Price: $62,000
Location: Washington County, Kentucky
Contact: Jeannie Oldham, 859-366-4023

The history: A lot of life was lived in this pink Folk Victorian farmhouse, nestled among the rolling hills and meandering stone fences of rural Washington County, Kentucky. Built circa 1880, it's remembered mostly as home to the Yeast family, who lived here from the 1940s until Mattie Yeast's death—at 104!—in 1990. Mrs. Yeast gave birth to her eight children here. The family raised cows and horses, and kept them out back in an old timber-frame barn; previous owners once stored tobacco there. After Mrs. Yeast's passing, the house sat empty until 2001, when it was sold to its current owner.

Why save it? The three-bedroom house is surrounded by historic stone fences thought to have been built by 19th-century Irish immigrants. Original architectural details include board-and-batten doors, built-ins, and yellow poplar millwork.

What it needs: The only bathroom has been updated but not the kitchen. The house needs an HVAC system and insulation. Whether to freshen up the pink paint or return the house to its original white is entirely your call.

The house retains its original windows and most of the gingerbread accents on two of its three porches.

Contribute to This Story Below