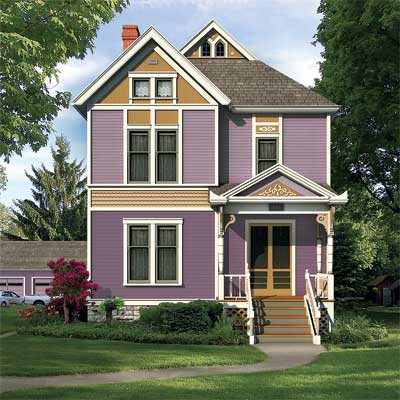 »
Adding Charm With Bold Color
"It's so hard to picture color on your house," says Melissa Sink of Kent, Ohio, who lives with her husband, Gerald, in this Victorian-era home built by his great-grandfather in 1878.
To help, we enlisted architectural color consultant
Amy Wax
, who assembled three pigment-rich palettes to take full advantage of the house's architectural charms. "Purple was a popular color for Victorians, but I chose muted tones that wouldn't be too garish," Wax says. The darker plum on the first story grounds the narrow facade while preserving a visual link to the second story. Gold, a complementary color, "enhances the qualities of both purples," she says.
Victorians probably would have used a third shade of gold for the trim, but Wax updated the look with a pearl white instead, giving the darker colors a crisp outline. The khaki adds a little flair. As you can see here, Wax offered up two toned-down options, too. Overall, she says, the key is to combine colors of similar intensities. As for the purples, "Wow!" says Melissa. "I would never have chosen those colors myself, but I love them."
Contribute to This Story Below
More in Painting & Finishes