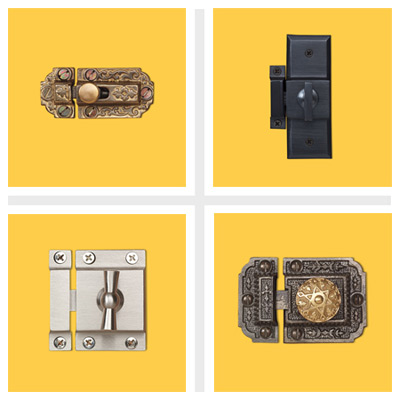 »
Secured in Style
Whether you're due for a kitchen overhaul or your bath built-ins just need a quick face-lift, adding latches is an easy way to inject a hit of period style. First appearing in Victorian-era kitchens as elaborately detailed brass or iron hardware with bolts that manually slid into place, these cabinet-door catches were paired with equally ornamental bin pulls. The Industrial Revolution brought spring-loaded mechanisms that allowed them to smoothly click into place with the push of a thumb. In the early 20th century, what we now consider the classic version—plain, nickel-plated, with an oval knob—came into vogue, and latches started venturing into virtually every room in the house.

Today's models cover the gamut of designs and finishes, all sure to bring vintage charm to new and old pieces alike. Just remember: For the two parts to make proper contact, a latch must be installed on inset doors that sit within a frame. Here, 18 of our favorites.

TOH Pro Advice: "To determine latch placement, make three tick marks to divide your cabinet into four equal parts, top to bottom. On upper cabinets, mount the latch on the lowest tick mark; for base units, close to the topmost tick mark." —Orion Horton Henderson, owner, Horton Brasses Inc.

Contribute to This Story Below