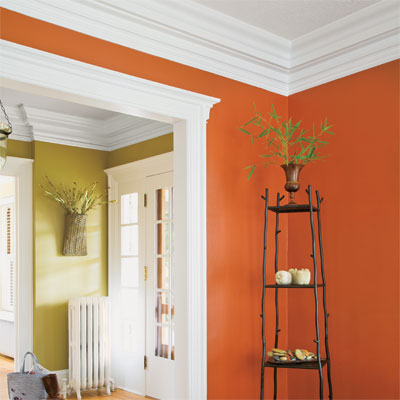 »
All About Crown Molding
In the world of trim, crown is king. Lording high over casings, chair rails, and baseboards, it cuts an impressive profile with elegant curves and distinguished angles. It also elevates a room's stature, drawing the eye up to the ceiling and echoing design motifs seen in other moldings to create a cohesive and polished look for the space.
Crown's lineage reaches back to the ancient Greeks, who created the profiles and the rules of proportion that we still use some 2,500 years later. Only the materials have changed. Rather than the original heavy stone, 18th-century American craftsmen opted for more malleable and relatively lighter-weight plaster or wood crown. While these materials are still top choices for traditionalists, today's handy homeowner can also choose moldings made from foam and flexible polyurethane, which go up with greater ease than the Greeks, or even our grandfathers, could have ever imagined—no chisel, trowel, or nails required.
Pictured:
White paint in a high-gloss sheen accentuates the carved detail in this wood crown and adds a classic touch to the entry foyer and living room.
Similar to Shown:
Custom 9-inch-high cornice in wood, about $7.50 per linear foot;
Stark Custom Millwork

Contribute to This Story Below
More in Molding & Carpentry