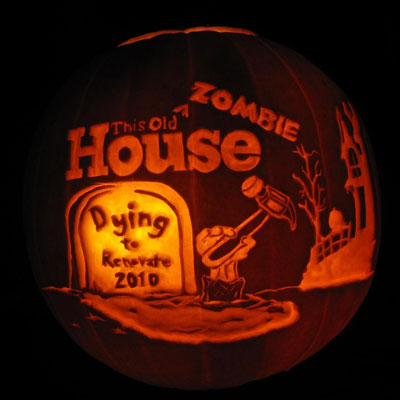 »
Everyone's a Winner!
We love it when you guys show us how talented you are. We asked for your best Halloween pumpkin carvings, you sent us nothing short of masterpieces—eerily life-like sculpted faces, subtly shaded portraits, hilarious horror scenes—all cast from your favorite bulbous squash.
After you voted for the 25 finalists,
TOH
's editors chose the winners. Our favorites displayed not just tool skills, but creativity, humor, and originality. Trust us, it wasn't easy to pick just one! Click through to see the winner of the $500 Grand Prize gift card and the other 24 finalists.
Enter our Pumpkin-Carving Contest today!
Shown:
Honorable Mention
As a followup to
last year's entry
depicting "This Old Haunted House," Maddoghoek100 from New York, New York created "This Old Zombie House." While this fine work of art didn't quite make the top 25, we thought we'd give it props for its topical pop culture reference—and its blatant attempt to suck up to the judges.

Contribute to This Story Below