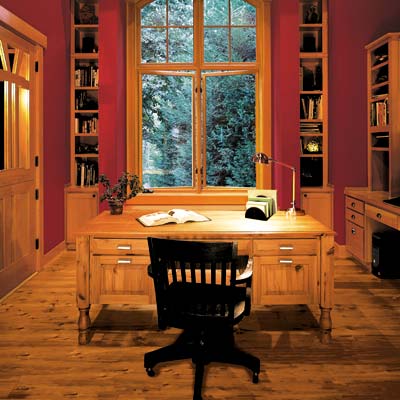 »
Desk Set
Never before has a luxury so quickly morphed into a necessity, but few people today would consider remodeling a house without making room for a home office. And it's not just the libraries and book-lined dens of early 20th-century homes that are making a comeback. Twenty-first-century computer niches and wired homework stations are finding their place on more floor plans, too.
A recent study by the
American Institute of Architects
designated the home office the most requested "special function room" in the house. Chalk it up to the spike in part-time telecommuting, after-hours e-mailing, and an effort to keep the Internet out of kids' rooms. Whether it's a bare minimum desk off the kitchen or a full-blown study with custom cabinets, multiple work surfaces, and extensive file storage, here's how to create a workstation that'll work for you.
Shown:
It's easy to forget that there's a printer, fax, scanner, computer tower, and files all hidden from view in this Portland, Oregon, home office. The space features casement windows, a pine partners' desk, alder floors, and fir built-ins.

Contribute to This Story Below