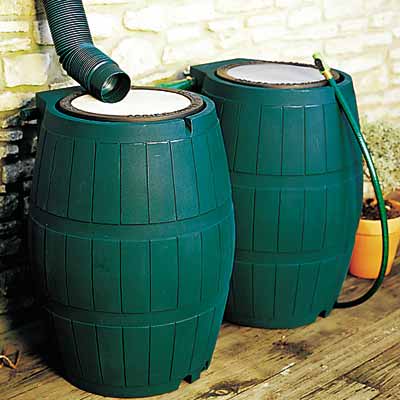 «
»
Simple Collection Systems
A rainwater-collection system can be as simple as a rain barrel at the end of a downspout or as elaborate as a whole-house system, which supplies all the water needs for my family of four in the Texas Hill Country. Cost and complexity depend on how much water you need and how you plan to use it.

A simple system is adequate for landscaping needs, but cost, complexity, and maintenance increase if you're planning to drink rainwater or pipe it into the house. Check with your local building official about the regulations on rainwater systems for indoor use—codes differ widely from one community to another.

A house with a sloped roof, gutters, and downspouts is well on its way to harvesting rainwater for landscape irrigation or other nonpotable uses. You just need a few simple components: wire-mesh gutter screens to keep out debris, a storage tank, and a way to move the water out of the tank.

Contribute to This Story Below