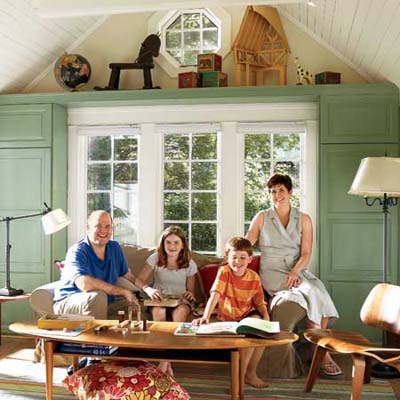 »
Meet the $5,000 Winners!
John and Bibi Coyne nabbed the top prize in
This Old House
's 2010 Reader Remodel Contest. Here's the story of their renovation:
Want to know what it's been like to fix up our little Cape? Picture my husband, John, and me up at midnight prying off door trim and sawing through plaster. We just had to widen that doorway. It was the only way to get our new fridge into the kitchen.
Eight years ago, we didn't own a Sawzall, much less know how to operate one. But that was also before we noticed flakes of spray paint sticking to our kids after bath time, thanks to an old cosmetic fix on the tub. And before that same bath's dripping faucet finally sent us over the edge, forcing us to redo the dismal room long before we wanted to. Yes, we ripped out the tub, and the faucet, too.
Shown:
The Coyne Family enjoys a compact one-room addition made spacious by a vaulted ceiling, which they paneled for a cottage look. Built-in cabinets, customized with vintage-green paint and trim, are stock units from
IKEA
.
Watch a video tour of this winning home
Enter your home in the 2011 Reader Remodel Contest.

Contribute to This Story Below