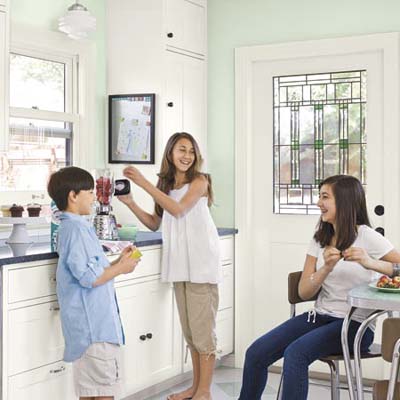 »
Functional Family Kitchen
WHO> Linh-Co Nguyen, Rick Burke (and Dawson, Ali, and Maddie, too!)
WHERE> Seattle
WHAT> Created a hard-wearing space with an eclectic vintage look

We fell in love with our 1920s house, which was built to last. Not so much the kitchen, which was late '60s. We wanted to give it more character and function. We also wanted space for a family-size table, so we hired a framer to knock out a dividing wall and enclose a small back porch. Then we hired a pro to make our cabinets. But we did everything else ourselves, including hanging those cabinets. The kids even helped us wiggle the last one in place. They also helped choose the floor pattern.

Shown: Dawson, Ali, and Maddie Burke enjoy a slightly bigger, totally rebuilt space that has Art Deco pendants, a diner-style table, and a clean new look.
Contribute to This Story Below