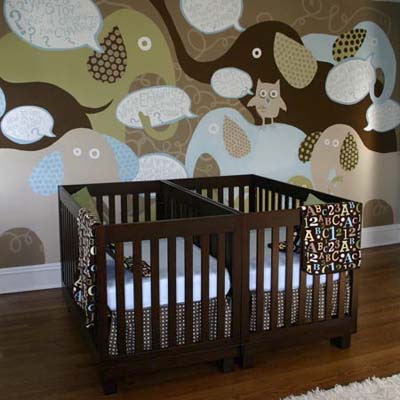 »
An Elephant in the Room
WHO> Vanessa Butler
WHERE> Rocky River, Ohio
WHAT> Painted a mural that practically walks and talks

When my husband, Jeff, and I were first dating, he tried to woo me with elephant jokes from a book he and his twin brother had memorized as kids. Can't say it worked. Luckily, there were many other charming things about him. But we still have that book, and years later, pregnant with twins, I thought it would be a perfect subject for a mural in their room.

Shown: The crib wall features a striking mural of elephants and speech balloons. Each speech balloon features a joke from the book 101 Elephant Jokes (Mass Market Paperback, 1964). Keep reading for the answers to some of the riddles featured here.
Contribute to This Story Below
More in Painting & Finishes