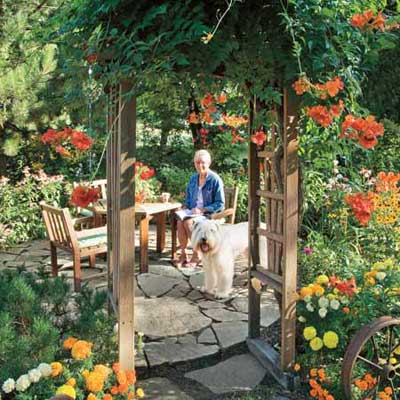 »
A Lush Landscape
You've probably read that a well-designed garden starts with an
overall plan.
And that having one can save you a lot of grief. Susan Martin agrees—though she transformed her own acre of scrubby
trees
and
lawn
into a colorful garden without ever putting pencil to paper. Instead of following a paint-by-numbers planting scheme, Susan simply experimented and watched to see what worked and what didn't.
In the process, she discovered tricks that can help gardeners who don't think in terms of grid lines and circles on paper. They're also good for homeowners like herself who start out just wanting a few flowers but discover how much they enjoy the process and wind up tackling the whole yard. Here, the trial-and-error lessons she learned in creating her stunning landscape.
Shown:
The trumpet vine on the entry arbor is ''a hummingbird magnet,'' Susan says.

Contribute to This Story Below