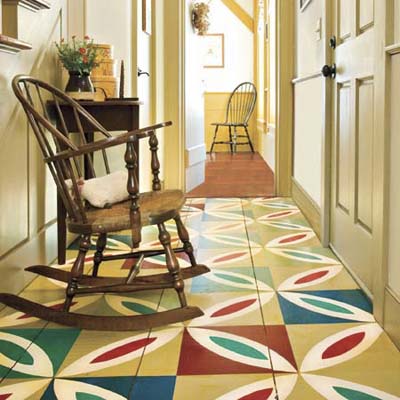 »
1. Paint a Colorful Patchwork Floor
A ho-hum foyer can become a focal point if you have a few paint leftovers and a bright idea. Armed with five half-full cans of interior latex, Arlene and Seth Perlmutter pictured a patchwork quilt opened up on the floor, but finding the right proportions for a 4
½
-by-13-foot space required some tinkering. "The rows had to be at least four squares across to give the pattern symmetry and proportion," Arlene says.
After cleaning the floor, Arlene taped off 13-inch squares, allowing partial squares to bump up against the thresholds at each end. She painted most of the squares the same color as the walls. Then she worked her way down the hall, using a 2-inch painter's brush and four other shades—deep blue, brick red, bright red, and teal green—in a semirandom fashion, as if stitching together fabric scraps. The elongated petals, in white, went down with the help of a hand-cut Mylar stencil. Their alternating red and blue centers bring order to the patchwork.
The whole design got a protective top coat of amber-tinted shellac. It's kept the floor pristine despite foot traffic and pets.
Contribute to This Story Below
More in Painting & Finishes