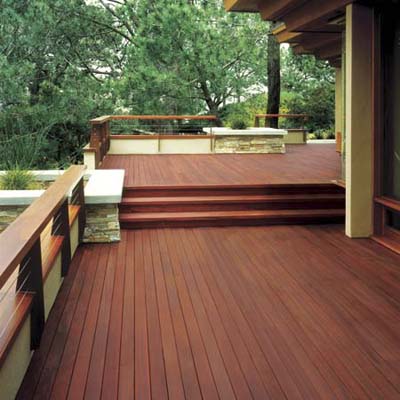 »
Renew and Refinish
Spring heralds the arrival of weather warm enough for us to finally get outside and start undoing the damage winter has wrought on woodwork. Refreshing the finish on decks, fences, and siding tops the to-do list because without renewed protection against Mother Nature, wood will start to decay. In a one-two punch, sunlight breaks down the lignin that holds wood fibers together, leaving a gray surface that can't hold a finish. Then water gets in, rotting boards and shingles and, worse, potentially compromising the structures that lie beneath them.
You can safeguard wood in one of two ways: either with paint, which seals it under an opaque film, or, perhaps better, with exterior stain. The beauty of stain is that it's easy to apply, resistant to peeling, and brings out wood's texture or grain. But stain comes in a bewildering number of types. Some are as clear as bourbon; others are as milky as paint. Some form a film on top of the wood; others leave behind nothing but a hint of surface color.
Rather than waste time—or money—with trial and error in pursuit of the right stain for your job, take a look at the following pages. We translate the confusing labels, show you some of the many places stains are used, and offer tips on how to apply and maintain a finish for maximum durability. Once you make your choice and lay it on, you can rest easy, knowing that your wood is taken care of. Well, at least until next spring.
Shown:
A knock-out deck starts with great wood—in this case, clear redwood protected with a burgundy-tinted penetrating stain. Behr Premium Semi-Transparent Weatherproofing Wood Stain;
behr.com

Contribute to This Story Below