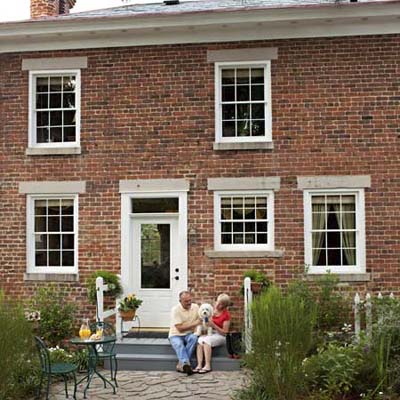 »
Little Fixer-Upper
My husband, Walt, and I first laid eyes on the Petersburg, Virginia, cottage while visiting our son Greg and daughter-in-law Marion, who live 2 hours north. They had bought the adjacent, larger house as a vacation getaway—and potential retirement spot for Walt and me. In doing so, they'd also taken on this little fixer-upper that sat on the half-acre property—known as a "kitchen house," it once served as the summer kitchen and servants' quarters. With just four rooms, it seemed like it could be a cozy home for the two of us. Eventually.
So in May 2006, we moved into the main house. I'll admit, it wasn't an easy decision. I cried that first night and asked Walt if we were doing the right thing, leaving our friends and our country home in Pennsylvania's Pocono mountains to take on this rundown little house in a slowly revitalizing urban area. But by the next morning, that moment of doubt had passed, and I was mentally
picking out paint colors
for what I was sure would be a three-month project.
Of course, four months in, it was still just a shell with no utilities.
Shown:
Homeowners Walt and Roberta Purcell relax on their new back stoop, which faces the adacent Italiante house.

Contribute to This Story Below