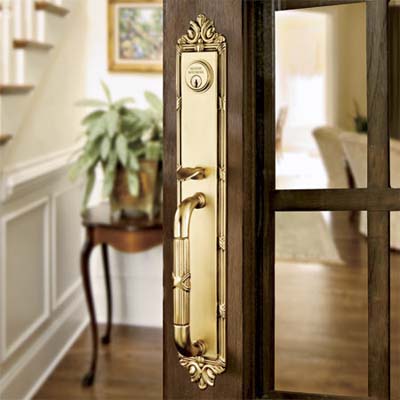 »
All About Entry Sets
Consider the front door the welcoming face of your home and the entry set its hearty handshake. This lock-and-trim hardware is a small detail that makes a big first impression.
An entry set is also your home's guardian, allowing you to key a dead bolt into place with a satisfying snap. This familiar sound, which precedes our every trip across the threshold, reassures us that everything—and everyone—inside is safe and sound. For added security and convenience, some newer locks don't even need keys; they're opened with a touch pad or a smartphone, such as a BlackBerry.
While the lock is all business, the trim that surrounds it is about pleasing our senses; how it feels matters as much as how it looks. No wonder that entry set manufacturers offer so many knob, lever, thumb latch, and escutcheon options, as well as a slew of different metals and finishes. Choose from oil-rubbed cast bronze, brushed stainless steel, and luminous forged brass coated with a high-tech finish so that it will never tarnish. Some companies even sell entry set parts a la carte so that you can customize the door hardware you've got for a fraction of the cost of buying new.
In this gallery, TOH explains the different trim and lock types, what to look for when shopping for a new set or upgrading an old one, and which style is right for your house. Because dressing up your entryway isn't just for a winning first impression—it's also about helping to form a lasting one that both you and your guests will remember long after closing the door.
Pictured:
This forged-brass entry set with full-length escutcheon exudes strength. Ribbon-and-reed detailing, popular in the early 1800s, adds period style. Ribbon-and-reed handleset, about $525 (tubular only);
Hickory Hardware
Contribute to This Story Below