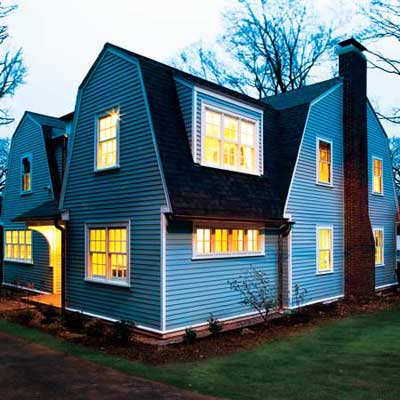 »
Creating All the Right Rooms
Good-bye, gargantuan great rooms. Sayonara, massive master bedrooms. Just as the average new home size in the U.S. has dipped, additions have been shrinking too, a sign that we're taking steps to curb energy consumption and lower remodeling costs in an era of rising utility prices and uncertain home values. As many of us learned the hard way, the race to renovate often led to spending too much on a too-big addition with too little planning and, ultimately, rooms that didn't meet our needs.
The renovation and expansion of this 1915 Dutch Colonial in Newton Centre, Massachusetts, the site of
This Old House TV's
latest project, is a handsome example of the kind of modest-scale, well-planned remodel that's more in tune with the times. "When we moved in, we knew we wanted a bigger kitchen and more room for working at home and having people over," says homeowner Bill Pierce, a writer and editor, whose wife, Gillian, is a professor at Boston University. "But we decided to live here for a while to get to know the house before plunging into a big project."
It took the Pierces three and a half years to figure out what spaces they needed and a year of working with local architect
Paul Rovinelli
to flesh out the floor plans. At 330 square feet, the addition gives them just enough breathing room. Keep reading to see how their refurbished house suits their lifestyle—it's an inspiration for anybody who wants more room at home.
Window trim, beadboard:
Azek
Asphalt shingles:
CertainTeed
Copper gutters:
On-site storage:

Contribute to This Story Below