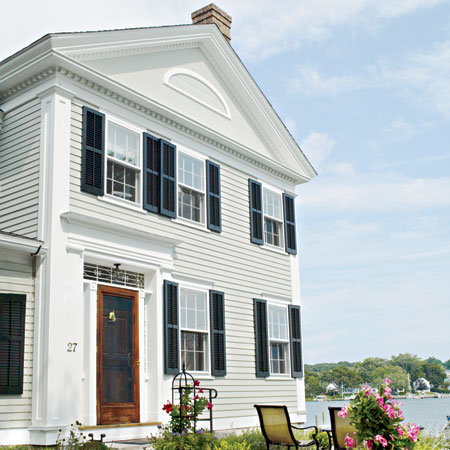 »
Waterfront Greek Revival
If the theme song of smart real-estate transactions is "Location, Location, Location," then in the search for a vintage house the chorus is surely Details, details, details. But when Michael Sarasin and Renee Mattison found a Greek Revival gem with everything but the latter, they did not hang back.

The couple had been looking for a waterfront home when they came upon a street in Mystic, Connecticut, lined with 19th-century houses. There, right on the Mystic River, was a four-bedroom, two-bath house with a classic front gable and triangular pediment. Built in 1834 and enlarged to form an L about two decades later, it was structurally sound and ideally located for two people who love small-town charm. And even without improvements, it would have plenty of room for the two of them and Renee's daughter, Alyssa, now 13.

Pictured: The classic street-facing facade was gussied up with dentil molding and fat corner boards.

Contribute to This Story Below