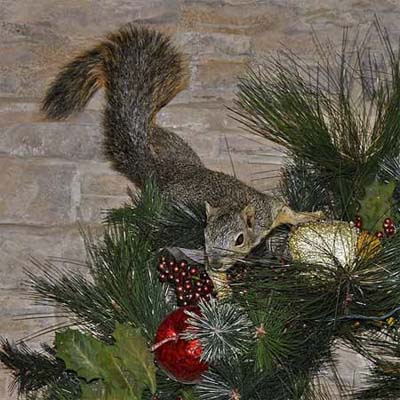 «
»
Santa, Is That You?
"When we first moved into our home, we knew the previous owners had cut a hole into the flue. Through spring, summer, and fall, the foil pie plate they inserted into the flue to close off the hole was sufficient. But we forgot all about it come winter.
"One day in mid-December when I came home from work, my 11-year-old son was hopping with excitement about an animal in the chimney. On my hands and knees, I leaned into the fireplace and looked up, coming nearly nose-to-nose with a squirrel. I stumbled back, and before getting to my feet, my son had dashed to the opposite side of the room and pinned himself to the wall in fear. The squirrel fell out of the chimney, then scurried up our fully-decorated Christmas tree, where he sat, looking at me intensely.
"I thought quickly: grabbing the fireplace broom I gently directed the squirrel out of the tree. Then I shouted to my son to open the front door. With a little help, and some patience on our part, the squirrel finally ran out—and thankfully our tree was left intact."
Carol M.
Via Facebook
Become a fan of TOH on Facebook

Contribute to This Story Below