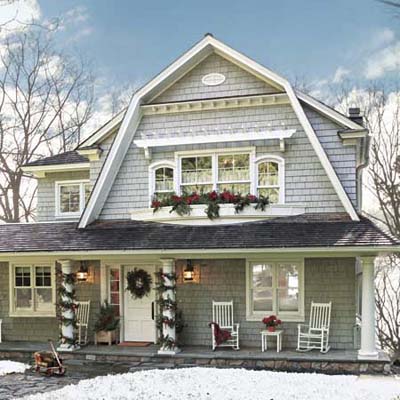 »
Dramatic Comeback
Sometimes to save an old house you have to take it apart and put it back together in a brand-new way. After three years of wondering how to update their 1912 lakeside cottage in Mound, Minnesota, Michael and Andrea Kerrison decided to forgo tinkering around the edges in favor of a whole-house redo. The result, from the new gambrel roof and columned front porch to the marble tile in the master bath, paradoxically looks older than the house they started out with.
The couple—newlyweds living in a place that Michael had acquired a few years earlier—appreciated the cottage's compact footprint and had no desire to replace it with one of the red-brick McMansions that had sprouted in the area, a former summer colony outside Minneapolis. Still, the kitchen dated to the early 1980s, and the upstairs was half attic, with no real bunk space for Michael's three young grandchildren. The house lacked insulation and air-conditioning, its boiler was wheezing, and architecturally it was neither here nor there. "We didn't want to tear it down; we wanted to gently morph it," says Andrea, an interior designer with a passion for weathered gray shingles, lazy front porches, and painstaking renovations.
As the couple dipped into her idea file, crammed with magazine clips and photographs that she took whenever they spotted a house they liked, one picture kept drawing them back. It showed a Shingle-style dwelling in Newport, Rhode Island, with a stately air and wide gambrel roofline. "It was a very clean aesthetic but without feeling cold," Andrea says.
Design and construction:
Lake Country Builders
Doors and windows:
Marvin Windows and Doors
Custom shingle stain:
Cabot

Contribute to This Story Below