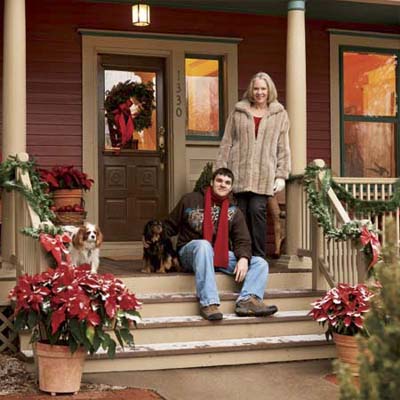 »
Greetings From Our Old Red House!
It was January 2005 and obviously too late to call the update a Christmas letter, but I sat at the computer anyway. I figured my family and friends in Texas would understand—I was, after all, living in the middle of a construction site.
At least I was no longer sleeping on a bed in the back parlor, with no door for privacy and boxes piled high around me, like I had been for over a year. Just before that Christmas, I had finally moved into the new bedroom and bath I added on to the first floor. The laundry, though, was not yet finished, so the washer and dryer were still in the also unfinished basement. The 1899 foursquare itself had been stripped of its old tan vinyl siding and aluminum trim to reveal robin's-egg-blue clapboards, now dotted with blown-in insulation entry points and about 10 test patches of red paint—as it had been for months. I'm sure our neighbors were holding their breath to see which one we would finally choose. The winner, by the way, ended up being my own special concoction: "Bunny Red Mix No. 14"—yes, it took that many tries to find the right one.
Pictured:
Homeowner Bunny Blaha and son Tyler Hixenbaugh in front of their renovated 1899 foursquare with spaniels Molly and Elvis. While Tyler and his older brothers pitched in with the demo, Bunny took care of details, like refinishing the front door, an antiques-store find.
Poinsettias and topiary: Courtesy of Pikes Peak Nurseries, Colorado Springs, CO; 719-632-4751
Exterior paint (custom colors):
Benjamin Moore

Contribute to This Story Below