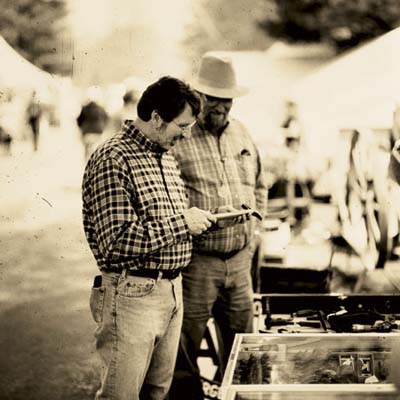 »
The Feel of a Well-Worn Hammer
Iron darkened with weather and age, wood worn to a rich sheen in all the comfortable places, old tools feel like the past frozen in a black-and-white photograph. Lining the dusty shelves of little-used workshops and the cobwebbed corners of a junk-filled garage, they may seem pointless today, easily replaced by some sharp new power tool with lasers and digital readouts. But hand tools from your grandfather's day are actually worth checking out. With a little tune-up, these antiques are just as functional as they are beautiful.
This Old House
master carpenter Norm Abram learned his craft at his father's knee, and many of the vintage tools in his own working collection were once the instruments of his father's trade. So we asked Norm if he would take a day at the famous
Brimfield Antique Show
in central Massachusetts to pick out a collection of tools that a modern homeowner—you, say—could still make use of. Norm walked the show's acres of aisles and perused the chock-full tables. What he came away with includes many familiar favorites, as well as a few forgotten innovations that, surprisingly, might still be the best tools for the job.

Contribute to This Story Below