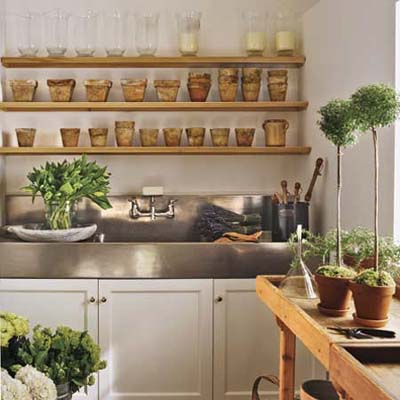 »
Get This Look
Whether you're a gardener who lives to get your hands dirty or you just crave a dedicated space for tending houseplants and cut flowers, an efficient—and attractive—workroom is a pleasure to have.
This one, located just off the kitchen in a 1929 brick house, was designed around a 6-foot-long vintage nickel sink and inspired by the kind of potting shed found in the French countryside, crafted from leftover boards and bricks and filled with weathered, moss-covered pots. How to strike a balance between practicality and style when you bring such a space indoors? "Keep all the finishes natural and stick to conventional garden-tool materials: wood, metal, and terra-cotta," says interior designer
Wayne Nathan
, who created the Brookville, New York, potting room shown on these pages. Here are some pieces you can use to bring a similar space to life in your home.

Contribute to This Story Below