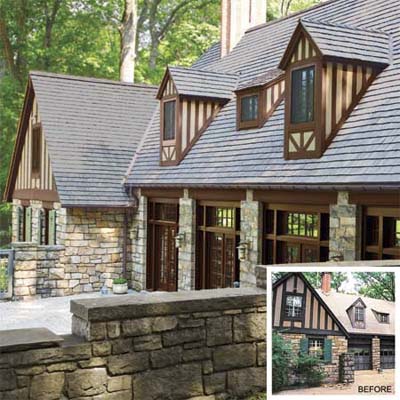 »
Exterior
It's not often that the words open plan and vintage home are paired in the same real-estate listing. But that's just what Diane and James Murphy, serial old-house owners, were hoping for: a place with a modern open plan where they could host casual weekend and holiday get-togethers.

Knowing that such a combo would be hard to find, the couple widened their search to vintage barns and carriage houses that would need converting. That's how they came upon the place that captured their imagination: a 3,500-square-foot 1916 Tudor-style carriage house with a four-bay garage taking up most of its first floor.

Along with its facade of local fieldstone and half-timbering, it offered a relaxed, rustic setting in Bernardsville, New Jersey.

And it already had some living space carved out: the upstairs servants' quarters—three bedrooms, a kitchen, and a bath—as well as a mechanic's workshop and a chauffeur's office downstairs.

Contribute to This Story Below