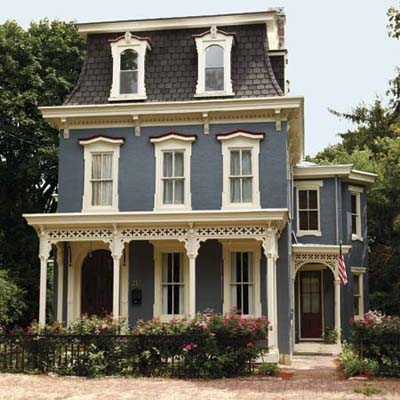 »
A Family Tradition
Every time I drove by the beat-up brick house with the boarded-up windows and haunted air, I wanted it even more. Someone needed to save this ­former beauty, with its irresistible gingerbread trim and curvaceous mansard roof. Why not me?

I got my love of old homes from my parents, Ed and Pam, who used to take my two younger brothers and me on house tours when we were little. My folks and I now live near each other in Carlisle, Pennsylvania, where there's no shortage of vintage houses, and they never miss an opportunity to point one out. Still, this one was special. Built around 1895 in the Second Empire style, it featured no fewer than four porches (one upstairs). Along with its gingerbread, the front facade showed off a pair of mahogany doors, six floor-to-ceiling windows, and two dormered ones poking out from that mansard roof.



Shown: The house boasts a new roof, a freshly painted exterior, replicas of its original window moldings and cornices, and a wrought-iron fence.

Contribute to This Story Below