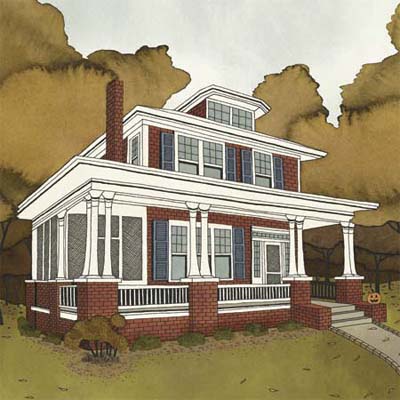 »
Old House, Smart House
Some of the most resource-conserving houses are the oldest. Before central heat and air-conditioning, homes were constructed in concert with the climate and environment. "Otherwise, people would freeze to death in the winter and die of heatstroke in the summer," says architect Steve Mouzon.

Houses were smaller—they have more than doubled in size since the 1950s—requiring fewer materials and less energy. They were created with what was at hand: local wood, stone, earth. Materials weren't shipped halfway around the world, as they are today.

In addition to the fuel saved in transport, building with native materials also improved a home's energy efficiency. Factor in smart architectural features, and homes were even more sustainable.

The thriftiest thing about old houses is their staying power, says Marianne Cusato, an architectural designer and co-author of Get Your House Right. "We used materials that were meant to last forever so that the homes would last forever too," says Cusato.

Here, we take a look at some of the defining details that many old houses share, as well as regional styles that have stood the test of time.
Contribute to This Story Below