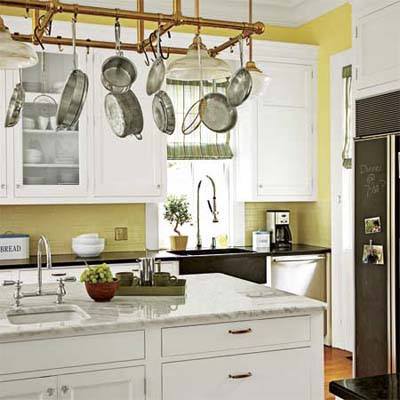 »
Generic Kitchen
Period home, generic kitchen. It's a familiar finding for buyers looking to score an old house full of original detail. And it was just what David Schloss and his wife, Abigail, ended up with when they moved into their 1875 home in Nyack, New York. The Queen Anne's architecture was largely intact, with one exception: The kitchen was a shoddy, circa-1964 number thoughtlessly tacked on the back. Just as bad for the pair of avid cooks, the space was dinky. Minimal counter space was always cluttered, three tiny windows provided little light, and opening the fridge door blocked the only passage to other rooms.

Shown: A pot rack keeps cookware out of the way but within easy reach. Made of brass bar rails, it looks at home in the Victorian-era house.

Baking supplies are stored under the island. The cool marble top is perfect for rolling old dough.
Contribute to This Story Below