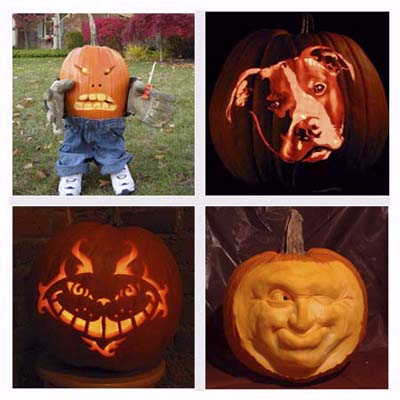 »
Jaw-Dropping Jack-o'-Lanterns
It's that time of year again! The kids are back to school, leaves are changing color, and there will soon be no shortage of pumpkins for carving. This year, we challenge you to ditch the old triangle eyes and carve yourself a masterpiece. Why? It could win you the $500 Grand Prize in
TOH's Pumpkin-Carving Contest
! That's why!
Not convinced you can crank out one of these grand gourds? Pro carver Jason Green of
Karvd.com
didn't think he could do it either. "When I was halfway through my first carving, I almost scrapped the whole thing," he said. "The thing about these carvings is that until they're lit up, they can look just plain strange." But, with a steady hand, the right tools, and a bit of patience, you could easily create show-stoppers like the ones shown here.
Take a look at this gallery of inspirational creations, complete with the top-secret tips of some of the world's best pumpkin carvers.
Clockwise from top left:
"Angry Kid" by Tom Nardone of
ExtremePumpkins.com
. Nardone used props and power tools to make this humorous piece; "Isaboo" by Gene Granata of
MasterpiecePumpkins.com
. Granata was asked to create this carving of Rachel Ray's dog for display on the set of her talk show,
The Rachel Ray Show
; "Expressive Pumpkin Face" by Scott Cummins of
PumpkinGutter.com
. Cummins preserves his detailed carvings with ice baths when the pumpkins are not on display; "Cheshire Cat" by Ryan Wickstrand of
ZombiePumpkins.com
. Wickstrand created this last year as part of a series of carvings inspired by the characters of
Alice in Wonderland.
Displayed in the carver's front yard, the pieces were accompanied by large tea pots and oversized mushrooms.

Contribute to This Story Below