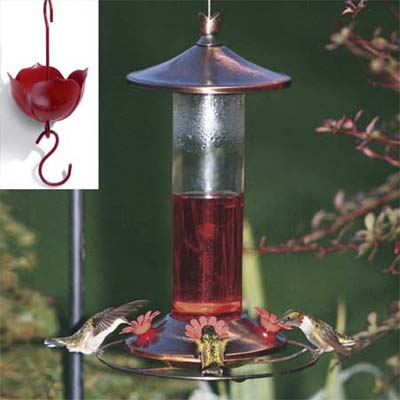 «
»
Colibri Hummingbird Feeder
According to the Audubon Society, 300 species of hummingbirds are found exclusively in the Americas. Draw some of them to your yard with this heavy-duty nectar feeder. The sturdy unit can accommodate larger nectar-loving birds, like orioles and grosbeaks, too. Its shiny copper base and cap, along with brightly colored feeding flower dispensers, make it easy for birds to spot. The clear glass tube lets you know when it's time to refill.
A sugar-water solution works as a nectar supplement, but you can also purchase mixes like
Ultimate Blend Hummingbird Nectar.
If ants become a problem at your nectar feeder, consider attaching an ant moat (inset) to the top of hanging feeders and the bottom of pole-mounted ones, add water, and the moat will trap insects before they can get into the feeder.
About $24 for feeder;
Woodstream
About $8 for ant moat;
Doctors Foster and Smith

Contribute to This Story Below