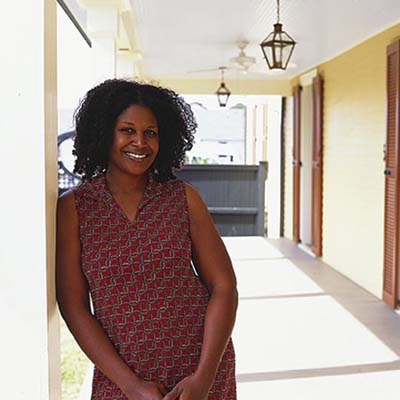 »
Keep a Small House Small
New Orleans is a city of small houses. So when it came time for ceramicist and teacher Rashida Ferdinand to think about making more space in her Lower Ninth Ward home, a renovation recently documented by This Old House television, blowing out the walls or adding a full second story just wasn't an option. Her addition needed to respect the scale of the area—as well as her budget.

Like a lot of young homeowners, she needed to turn her outdated one-bedroom, one-bath into a modern three-bedroom, two-bath so she could stay for a while—through single life, married life, and family life.

Fortunately, there are ways to expand without being overly expansive: Increase conservatively, make better use of existing spaces, and blend old and new seamlessly. What Rashida ended up with, built from a design by local architect Rick Fifield, is quickly recognizable as the Italianate-style shotgun cottage she bought a year before Hurricane Katrina. Which is surprising, given that they nearly doubled its original 1,200 square feet. A camelback addition—a small, two-story hump at the back of the single-story house—manages to keep the lines of the facade intact. Here's a look at the simple tenets she and Fifield followed for keeping a small house small.

Contribute to This Story Below