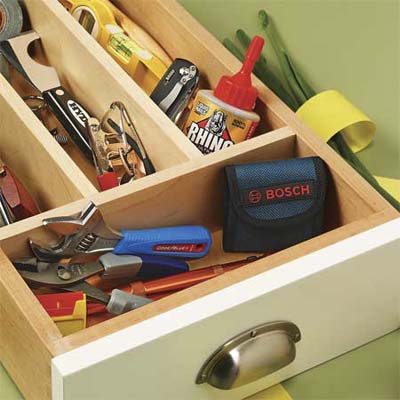 »
Kitchen Drawer Essentials
My family's favorite hammer had a hollow handle filled with graduated sizes of slotted screwdrivers, all nested together like a Russian doll. It lived among the family clutter in a kitchen drawer, alongside a rusty wrench, some featureless pliers, and a ragtag bunch of other gadgets. Dad might reach for one on occasion, but in truth, they were everyone's tools.

That's the nature of good kitchen-drawer tools. They arrive as they're needed—for tacking up picture hooks, say, or unscrewing a light fixture to change a burned-out bulb—and stick around only if they're compact, easy to use, and versatile. Anything too big, too specialized, or too fussy quickly ends up in the big toolbox in the garage.

Our collection took years to assemble. But you can jump-start the process with our handpicked lineup, which just happens to include nifty little gifts for anyone.

Contribute to This Story Below