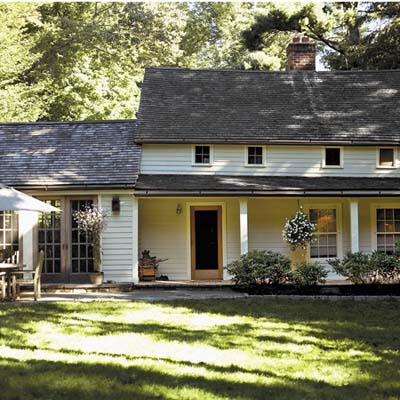 »
Main House
The old house wanted to fall down but Brooks Banker wouldn't let it. "From the moment I saw this house, I knew it had to be mine," he says of the simple clapboard cottage in Garrison, New York, some 60 miles north of Manhattan. And neither the squirrels running amok in the attic nor the powder post beetles making mulch of the centuries-old oak beams could convince him otherwise. Not even his mortgage lender's dour estimate that the house had only 12 years more to live—and the justified alarm that the bleak diagnosis provoked in prospective insurers—could deter this house hunter from acquiring the Hudson Valley ruin he had fallen for at first sight.

It's not like he doesn't have anyplace else to live. He keeps a comfortable apartment in Manhattan, where his law practice binds him most working days. But the unassuming, wood-frame dwelling in rural Putnam County has become Brooks's refuge. And he has no intention of ever giving it up—or giving up on it.

Shown here: Christopher Vazquez, a woodworker and carpenter who designs what he builds, milled salvaged lumber to restore the porch deck. The French doors were installed in the vaulted-ceilinged wing by a previous owner.

Contribute to This Story Below