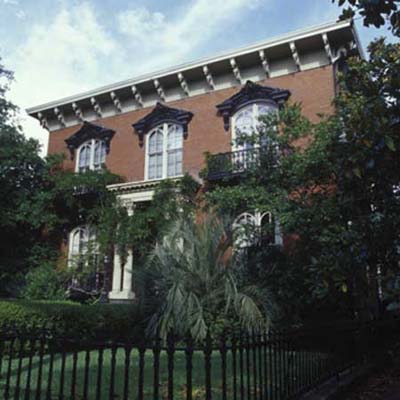 «
»
The Mercer Williams House Museum
Savannah, Georgia
Antiques dealer Jim Williams was a local hero for his efforts in restoring Savannah's historic homes. He chose The Mercer House—built for singer Johnny Mercer's great-grandfather during the Civil War—in which to work and live. In 1981, Williams' young assistant Danny Hansford, called "Savannah's most popular escort" by one source, was shot in the study of the house. Williams was tried for the murder a record four times, and threw a grand fete when he was acquitted in 1989. Of course, there haven't been any parties of that magnitude since, as Jim Williams' died suddenly on the property a few months later. But, according to the book
Georgia Ghosts
by
Nancy Roberts,
a couple of tourists witnessed a phantom revival of the party in 1994, on the five-year anniversary of Williams' acquittal celebration. The tourists claimed that the house was bright and alive with the clinking and clanking of a festive gathering, although no one was at home.
The Mercer Williams House Museum
is open to the public and run by Williams' sister, Dr. Dorothy Kingery, who has never witnessed paranormal activity there.

Contribute to This Story Below