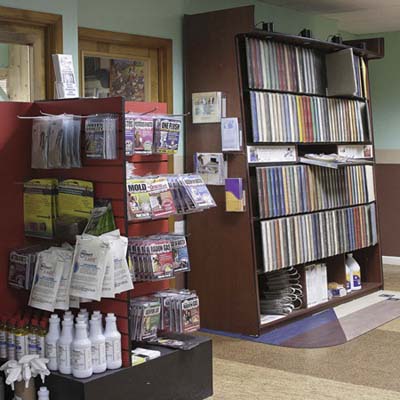 «
»
Green Depot
With branches in Massachusetts, Pennsylvania, New York and, soon, New Jersey, as well as distribution hubs from Maine to Virginia,
Green Depot
bills itself as the largest supplier of environmentally friendly building materials on the East Coast. "Our one central goal," says company president Carmen Arguelles, "is to make green building products and services readily accessible and cost competitive, so that green living can be easy, worthwhile, and gratifying."
"By no means should you consider 'going green' an all or nothing endeavor. It can just as well be baby steps," says Arguelles. "A place to start is cleaning supplies. Just once, set aside your highly toxic traditional cleaning supplies and replace them, for just a few pennies more, with natural cleansers. The first thing you'll notice is that they clean just as well." Along with a range of cleaning supplies, Green Depot sells anti-allergen dust spray and home test kits (shown here in their Brooklyn store) for potential in-home toxins like mold, radon, and lead. The company's building supplies include the popular Ultra Touch Insulation, made from recycled cotton denim.
Contribute to This Story Below