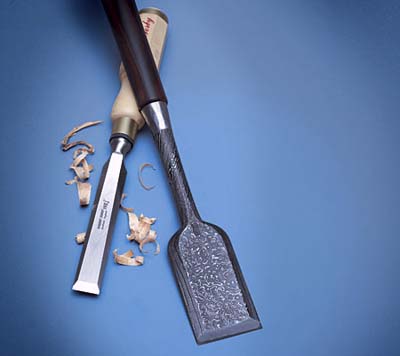 »
Western and Japanese Style
Western-style chisels (left) have long, narrow, alloy blades that are easy to sharpen and quick to dull. This chisel's boxwood handle has two metal bands, which prevent it from splitting, and an octagonal shape to stop the tool from rolling off a work­bench.
10 1/2 inches long, 3/4 inch wide; $45;
woodcraft.com
Japanese chisels (right) forge-weld low-carbon steel (for resilience) with high-carbon steel (for sharpness). The process, used to make samurai swords, creates the swirls. Japanese blades get sharper and hold an edge longer—an asset for woodworkers—and have concave "faces" to reduce friction.
14 inches long, 1 1/2 inches wide; $500;
thejapanwoodworker.com

Contribute to This Story Below