Editors' Picks: Our Favorite Cottage Kitchens
By , This Old House online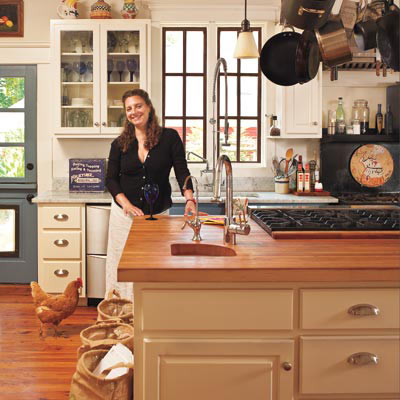 Cozy Cottage Living
Cottage kitchens are simply charming with an emphasis on functionality. They're built for comfort with features that help you through your routine and bring life to the hub of your home. Whether you're just refreshing your cottage kitchen or looking to add a dash of old-house charm to a new space, these TOH-featured rooms are sure to inspire.

Light, Bright Kitchen
When Curt, a green-building consultant found this circa 1910 shingled house in sore need of an update, he seized the opportunity to make it into a energy- and resource-saving home. He and wife Christine reused existing cabinets and added a restaurant range and broiler.

Here, Christine shows off the large butcher-block-topped island. The cottage-style exudes from the creamy-white cabinetry featuring bin-style drawer pulls and glass-front upper doors. They opted for a 1910s look but mixed old and new with modern amenities.
Gallery: 28 Thrifty Ways to Customize Your Kitchen