How to Lay Engineered Wood Floors
By , This Old House magazine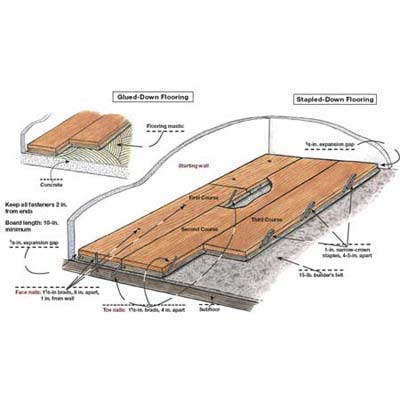 Overview
•To estimate how much flooring to buy, calculate the square footage and add a waste allowance: 5-7 percent for straight-course floors; 15 percent for a herringbone. For metric materials, 1 sqaure meter equals about 10½ square feet.

•Take an inventory of all edges that won't be covered by exisiting trim, including hearths, stairs, cabinets, or openings such as foloor registers or outlets. Order enough factory finished trim to cover these edges.

•Let flooring acclimate in open boxes for 3-4 days in the room where it will be laid.Wait at least a week before opening boxes in areas with new drywall or plaster. Don't store flooring in basements or garages; it might absorb moisture.

•"Try to run the flooring parallel to the longest wall in a room," says Hosking. "It makes the space seem bigger."

Click ''enlarge this image'' to view illustration labels.
Steps