How to Reface a Fireplace Surround and Hearth
By , This Old House magazine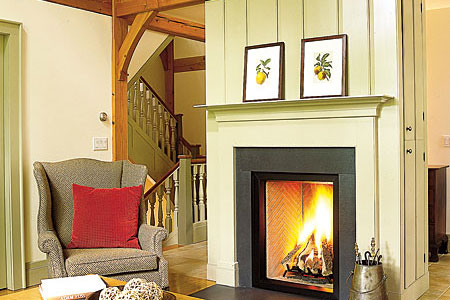 Time:

Cost:

Difficulty:

Moderate
Shopping & Tool Lists
Supplies You Will Need:

1. STONE SLABS
Make cardboard templates of the pieces you'll need and take them to a fabricator that specializes in stone countertops.
2. TILE
Make cardboard templates as you would with stone, and then plot the layout of the tiles on these. This will give you an exact count, but order extra.
Tools You Will Need:

1. Demolition hammer
2. Suction cups
for moving heavy slabs of stone
3. 1/2-inch notched trowel
4. Brick trowel
for smoothing topping mix in corners of hearth base
5. Flat finishing trowel
for smoothing topping mix on hearth base
6. Brick hammer
7. Mallet
8. Mason's brush
9. Circular saw
10. Jigsaw

Introduction
Chipped bricks, a stained hearth, and years of accumulated soot can turn what should be the focal point of a living room into an eyesore. Replacing a hearth and surround—either with seamless tone slabs or with ceramic or stone tiles—makes a big difference in the way a fireplace looks.

On these pages, Dan McLaughlin, with help from carpenter Thad King, shows how to replace an old quarry-tile hearth and cover a brick surround with four sleek granite slabs, each 1¼ inches think. It took McLaughlin and King just a few days work to rejuvenate this fireplace and reinstall the existing mantel. Installing a tile surround might take a bit longer, but there's less heavy lifting than with stone.
Steps
Helpful Info: