How to Build an Arbor Bench
By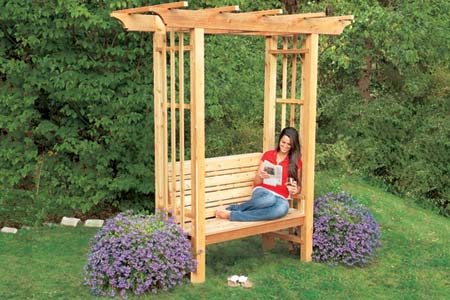 Time:

Three 6-hour days

Cost:

$400
Difficulty:

Moderate
Shopping & Tool Lists
Supplies You Will Need:

All lumber listed is western red cedar.
2x4s Get twelve 8-foor boards.
1x4s Get at least four 8-foot boards.
1x2s Get at least nine 8-foot boards.
2x6s Get three 8-foot boards.
2x2s Get two 8-foot boards or five 4-foot spindles for the purlins.


¼

-inch spacers cut from scrap.
Post anchors Get four.
Construction adhesive
Stainless-steel trim-head screws You need three sizes: 1

¼

inch, 2

⅝

inch, and 3 inch.
Tools You Will Need:

1. sledgehammer
2. miter saw
3. jigsaw
4. drill/driver and 1-inch paddle bit
5. caulk gun
6. 4-foot level
7. clamps
8. combination square
9. flexible curve to draw profile for rafter tails

Introduction
Sure, you could plop a couple of deck chairs in your backyard for an impromptu sitting area. But a hand-built cedar bench, framed by an arbor, gives you a more permanent place to kick back as the weather warms up, and adds an elegant architectural feature. Our design incorporates classic touches such as profiled rafter tails, alternating wide and narrow boards for the seat and backrest, and trellis sides to let your favorite climbers ascend to the overhead structure. Or you can let the bench remain free of greenery—it's eye-catching enough on its own. Follow along as This Old House senior technical editor Mark Powers puts it all together.

Western red cedar: Find a dealer near you at WRCLA.

Download the arbor bench cut list.
Steps