How to Build an Outdoor Bar Cart
By , This Old House magazine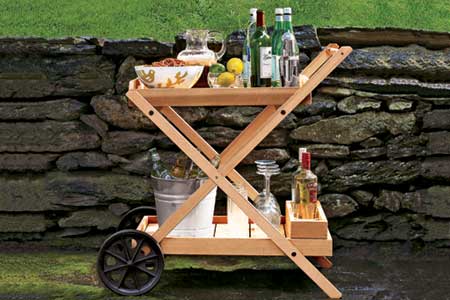 Time:

10 hours

Cost:

About $160 for cedar
Difficulty:

Moderate
Shopping & Tool Lists
Supplies You Will Need:

1. 1x2 cedar for the cart's legs and the ledges for the trays. Buy 22 feet.
2. 1x3 cedar for the trays and bottle rack. Buy 30 feet.
3. 1x4 cedar for the tall sides of the top tray and bottle rack. Buy 6 feet.
4. 2x deck pickets of cedar or treated lumber to make the crosspieces that support the removable top tray.
5. paint can to trace the shape of the handles for the top tray.
6. wood glue
7. 1-inch hardwood dowel
8.

½

-inch-long brass insert nuts,

¼

-20 size
9. 40-millimeter-long hex-head connector bolts,

¼

-20 size
10. 1

½

inch stainless-steel screws
11. 5⁄8-inch aluminum screw posts
12. set of two 9-inch wheels with axle, cotter pins, and axle caps.
Tools You Will Need:

1. miter saw
2. jigsaw to cut handles for the top tray
3. pneumatic brad nail gun with 1 3⁄8-inch brad nails
4. wood chisel to clean up notch cuts
5. drill/driver with various bits:

¼

inch, 5⁄16 inch, 3⁄8 inch, combination countersink, and 1-inch paddle
6. large flathead screwdriver
7. hex key sized to the hex-head connector bolts
8. 120-grit sandpaper and block wood file

Introduction
If your usual method of serving beverages at a barbecue involves a Styrofoam cooler and a bag of ice, it's time to think about an upgrade. This mobile cart is tough enough to withstand sun, rain, and spills of your libation of choice. Two-wheeled construction lets you navigate stone patios or lumpy lawns with ease, and the top tray is removable for serving drinks or munchies. Best of all, the entire thing can be easily taken apart and stored flat—or, better yet, stashed in your trunk for tailgate parties this fall. What better project to celebrate the beginning of grilling season? This Old House senior technical editor Mark Powers shows how to put it together using cedar and outdoor-grade materials.
Steps