How to Build an Outdoor Kitchen
By , This Old House online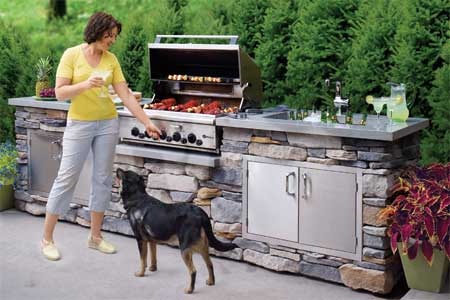 Time:

Two weekends

Cost:

$800, not including countertop, sink, grill, or other fixtures
Difficulty:

Moderate
Shopping & Tool Lists
Supplies You Will Need:

1. Cultured stone to veneer the kitchen box. Available at home centers and stone yards. You will need a few boxes of corner pieces, as well as flat face pieces, sold by the square foot. Get about 10 percent more than you need to account for trims, cuts, and broken pieces.
2. Pressure-treated 2x4s to build the frame for the box. You will need 15 to 20 10-foot pieces.
3. 3/4-inch pressure-treated plywood to sheathe the frame. Get four 8-by-4-foot sheets.
4. 2

½

-inch ceramic-coated deck screws to hold the frame together.
5. 2-inch ceramic coated deck screws to attach the plywood to the frame.
1

¼

-inch ceramic coated deck screws to build plywood boxes for the cabinets.
6. Construction adhesive.
7. Metal post standoffs to act as feet and raise the frame off the ground, preventing moisture from wicking up into the wood. You will need a total of 12.
8. 15-pound builder's felt to provide a moisture barrier between the mortar and the wood.
9.

½

-inch staples
10. Wire lath to create a base on which the mortar hangs.
11. Stainless-steel roofing nails to attach the lath to the plywood.
12. Type S mortar (or one labeled "for veneer stone") to affix the stone to the box. Get four or five 80-pound bags.
13. Stainless-steel doors (optional) to finish cabinets. Make sure they come on a face frame.
Tools You Will Need:

1. Circular Saw for cutting the framing lumber and plywood

2. Drill Driver

3. Tin Snips for cutting the wire lath

4. Hammer

5. Staple Gun

6. Mixing Trough and Masonry Hoe

7. Hawk and Finishing Trowel

8. 1/2-Inch Notched Trowel

9. Pointing Trowel

10. Miter Saw fitted with diamond blade

11. Grinder fitted with diamond blade

Introduction
Kitchens are the undisputed heart of the home, where everyone gathers, mingles, and lingers during parties. But to achieve that kind of appeal outside means expanding your outdoor living space. To draw a crowd—and keep them entertained—requires a bit more than plopping down a table and a few plastic chairs.

With an outdoor kitchen you can prepare meals and be around your guests with minimal time spent running back inside for plates, beverages, or tongs. Although you could spend tens of thousands of dollars for a custom outdoor kitchen, a basic island is an efficient design that leaves out the complexity of curves and angles. Not only that, with an island guests can relax on one side while you're cooking on the other, so you feel as though you're part of the gathering.

Since durability is such a critical issue for an outdoor kitchen, stone veneer is a low-maintenance option that won't need painting or sealing. Real stone is heavy, expensive, and requires the experience of a mason. Cementitious cultured stone, such as the type used in this project from Landmark Stone, is easier to work with because it's lighter, cuts faster, and lasts just as long as the real thing—all while looking as natural as real stone.

Follow along as This Old House senior technical editor Mark Powers builds a simple frame, covers it in faux stone, and then nestles a gas grill in the center to get the party started.
Steps