How to Install a Beadboard Porch Ceiling
By , This Old House magazine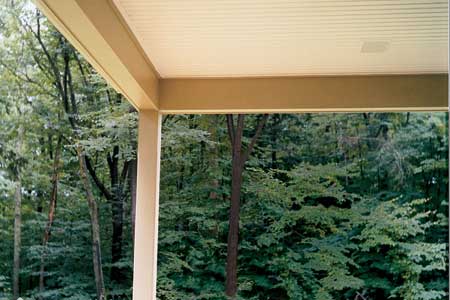 Time:

Two 6-hour days

Cost:

$5.50 to $6.50 per square foot
Difficulty:

Moderate
Shopping & Tool Lists
Supplies You Will Need:

1. PREPRIMED BEADBOARD

Beadboard comes in different-width tongue-and-groove strips that fit together to look like one continuous bead-and-board panel. It also comes in lengths anywhere from 8 to 16 feet. Pick the length that's just longer than your porch is deep so one board can run the whole depth of the ceiling without seams.


2. LATTICE

For covering the 1/4-inch expansion gap around the perimeter of the beadboard. Lattice is flat 11/2-by-1/2-inch stock, usually made from treated pine. For the amount you'll needmeasure the perimeter of the ceiling, then add 10 percent.


3. 2-INCH FINISH NAILS

For nailing up the beadboard. Make sure you get nails made to fit the gun you rent. About 200 will suffice for 100 square feet of 1x6 beadboard, which means two strips is more than enough.


4. 1-INCH BRADS

For attaching the lattice. One strip of brads should be enough.



Tools You Will Need:

1. Tape measure
2. Miter saw
3. Jigsaw
4. Pneumatic finish nailer,
rents for $35 a day, with compressor
5. Combination square
6. Pneumatic brad nailer,
rents for $22 a day, without compressor

Introduction
Picture a warm spring afternoon - you, on the front porch glider, lemonade in hand, gently swaying back and forth. This is the life, right? Until, that is, your gaze drifts upward and there it is: builder's grade plywood.

Visions of lazy afternoons lounging in your own shaded haven have now been overtaken by how to avoid looking at the dreary underside of the porch roof. Rather than averting your eyes, grab your tool belt and start planning your next project: a new beadboard ceiling.

Paneling the underside of your porch roof with wood is strictly an aesthetic endeavor, of course. But with a little know-how and a lot of patience, it's a way to add a touch of tradition and charm to a covered entryway - or to a bathroom, kitchen, or mudroom, for that matter. And it makes for a much nicer view when you wake from that rocking-chair slumber.

Tip: To calculate the number of strips you'll need, measure in inches the longest span of the porch, divide by the width of the beadboard you plan to use to get the total number of boards, then add 10 percent to cover mistakes and offcuts.
Steps
Helpful Info: